Gensei Ryu USA
---
Invitational Tournament 2018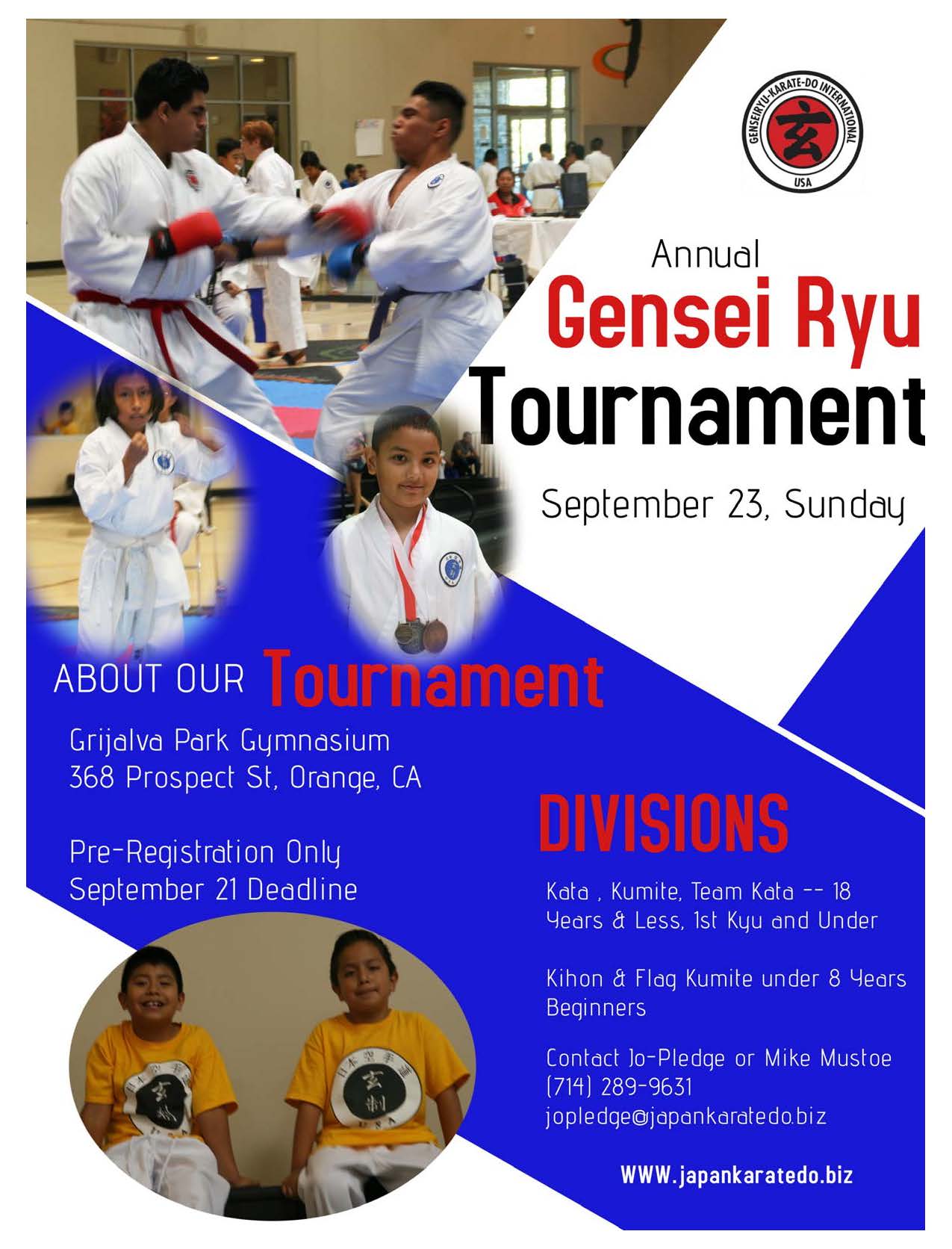 September 23, Sunday
Tournament Information
Location
---
Grijalva Sports Park, Gymnasium
368 N Prospect St, Orange, CA 92869
Pre-Registration Only
---
The City of Orange does not allow any payments to be processed on the Sports Center or Park premises. All competitor registrations and payments must be submitted by September 21. Competitors may register online as of mid-August. Paper submittal is acceptable.
Online registration may be done at www.JapanKarateDo.biz.
Payment must be made by check (mailed), Paypal (online), or cash (delivered to dojo) by September 21st. Checks must be made payable to Gensei Ryu USA.
Only bottled water is allowed inside the gymnasium.
Competitor Cost
---
$40 per competitor, regardless of the number of divisions entered. Visitors–No charge
Food Beverage Purchase
(Pre-Purchase Meal Tickets or Debit/Credit Payments Only)
---
Food and beverages for spectators will be available. Each competitor's registration includes one meal ticket. Food tickets, $5, may be purchased prior to the tournament. Food purchases the day of the tournament will be for $6 and must be by debit or credit card. Debit/credit card payment information will be written down at the food booth and processed on Monday. Cash may not be accepted on site.
Tacos, hot dogs, pizza, fruit, beverages will be available. Food will be available at approximately 11:30 AM. May not be taken into the gym.
Competitors may pack their own food but it must be eaten in the lunch room or outside.
Competitor Requirements
---
Competitors must be 18 years of age or less; 1st kyu or lower.
Competitor Check In
---
Upon arrival, competitors must pick up their competition tags and any meal tickets that were purchased.
Officials
---
Officials must wear grey pants, white shirt, blue tie, dark socks and shoes. Jackets are optional.
Officials will receive a stipend.
Tournament Schedule
---
8:00 AM Competitor Check In Begins
8:45 AM Staging of Competitors Begins
9:00 AM Officials Meeting
9:30 AM National Anthem
Competition Begins
Opening Divisions
Kihon, Flag Kumite, Team Kata Kata/Kumite Divisions To Follow
 For Additional Information Contact
---
Jo-Pledge, (714) 289-9631, jopledge@japankaratedo.biz
or
Mike Mustoe, (714) 290-6970, mwmustoe@cox.net.